---
Compressed air supply optimization reduces idle times down to 1%
O
Depending on the type of industry & operation 5 to 25% of the electrical energy is used for compressed air.
O
In almost all cases by using the intelligent control system a saving of 20 - 40% can be achieved.
O
A great potential lies in the elimination of leakages and examination of the distribution network.
O
By lowering the net pressure by 1 bar, cost savings of up to 10% can be achieved.
Which compressor gradation saves the most idling energy?
AIRLEADER is the smart compressor manager for up to 32 compressors. Speed regulated compressors can be integrated. This ensures that the most efficient combination of air-supply-compressors is used which is needed for production. Unneeded compressors are switched off.
O
Sustainable and durable optimized compressed air production

O
Control, regardless of manufacturer, performance and vintage

O
Easy installation and operation

Benefits of AIRLEADER Compressor Management:

Arrange your appointment now: Ing. Christian Steinbrugger • Tel. + 43 (0) 664 248 1974 • E-Mail: office@druckluftoptimierung.at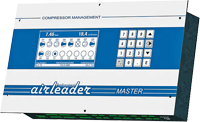 Compressor-Management